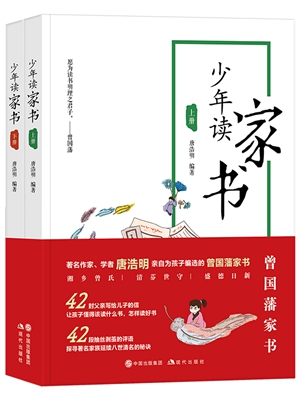 Family Letters To Young People
Paper Back
2022-11-28 | ISBN: 978-7-5143-9212-8
Email: dora.dingjie@foxmail.com
This book is compiled by renowned scholar Tang Haoming, who carefully selected 42 family letters written by Zeng Guofan to his son, covering themes such as reading, reasoning, and character development. Each letter is accompanied by annotations, translations, and comments by Mr. Tang Haoming, taking into account Zeng Guofan's family background, education, social connections, and historical background, to elucidate the profound meaning within the letter and beyond, bringing readers into the depth of the thinking of such an important figure in China's history and culture. 
Filled with a father's love, Zeng Guofan combined his own life experience to interpret the philosophy and values of China's excellent traditional culture in affectionate words. Like a gentle breeze and a nourishing rain, it brings comfort and enjoyment to readers, offering a constant renewal of insights.
Tang Haoming, born in 1946 in Hengyang, Hunan Province, is a master of literature and an editor. He has long been dedicated to the compilation and publication of modern documents and the creation of historical novels. He is the author of classic epic historical novels such as Zeng Guofan, Yang Du, and Zhang Zhidong. Among them, Zeng Guofan was ranked as one of the Top 100 Chinese-Language Novels of the 20th Century by the Yazhou Zhoukan in 1999. In 2003, it received the first Yao Xueyin Long Epic Historical Novel Award. He has also written works such as Tang Haoming's Commentary on Zeng Guofan's Family Letters and Tang Haoming's Commentary on Zeng Guofan's Memorials to the Throne.