World Publishing Co., Ltd.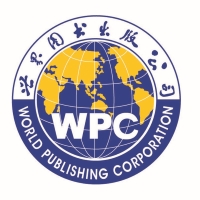 World Publishing Co., Ltd. (WPC for short) was established in 1986, headquartered in Beijing. WPC is the first trans-regional intensive management enterprise which sets 7 branch companies of Beijing, Shanghai, Guangzhou, Xi'an, Changchun, World Publishing Audio- Video & Electronic Press Ltd. and China scientific &cultural audio-video publishing Co., Ltd.
WPC is the member of China Publishing Group. Since its foundation, WPC regards "Let the world know China and present China to the world" as its tenet, and "Make the country strong through science and education, make science and education prosperous through books, serve scientific research, and serve institution of higher learning" as its management philosophy. WPC gives priority to publish books relevant to science and technology, language and reference, and introduce monograph of science and technology overseas, journals of science, teaching material of higher education and photocopy of original edition to China, which has already made key contributions to the development of science and technology and education in China.
In recent years, the World Publishing Corporation has undertaken more than 40 national major publications of key projects under the name "Thousands books project" and has also published key projects concerning the "The 9th five-year plan", "The 10th five-year plan", "The 11th five-year plan", and "The 12th five-year plan", like "A series of Xia Shang Zhou dynastic history project", "Chinese edition of Cecil Medicine (19-23th Edition)", "The Study of Mediaeval-Time Literature", "China Geography Encyclopedia". A group of outstanding books have been published, such as "Zhou Yuan Oracle", "Rich Dad Poor Dad", "Illustration of Chinese Traditional Festivals", "Handbook of Print Media", "Complications of Modern Surgery" and "Chinese calligraphy dictionary". By establishing a cooperative relationship with 108 foreign publishers from 22 overseas countries and regions, WPC has created a good international image with the overseas publishing industry, and a reputation for integrity.
With the characteristics, brand and strength with the spirits of exploring, developing and innovating unceasingly, WPC, just at the time of vitality, is advancing to be a domestic first- class and international well-known scientific-technical comprehensive publishing company in the new century publication enterprises.